Come take a walk back in time! 
On Monday, June 26, 2017, Paul Schulz will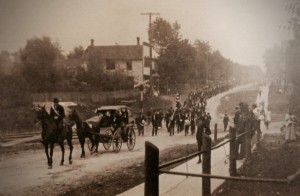 lead the Lansing Historical Walk on Ridge Rd.  We'll meet at 6:00 p.m. behind Gayety's, 3306 Ridge Rd. Paul, who was born and raised in Lansing, spent years as a mail carrier delivering mail to the businesses along Ridge Rd. His knowledge of the village goes deep.  Each year Paul thinks of some interesting tidbits to add; so the walk is never quite the same.  Also, participants are invited to add their own insights.
There is no fee for this event.  All are welcome!  For more information, call Barb Dust, 708-474-7497, barbd728@aol.com