Bridal gowns from the late 1800's through the 1980's are on display in the Lansing Historical Museum along with photos and commentary about bridal fashion trends through the years. The display will be up through the month of August.  There is no admission fee.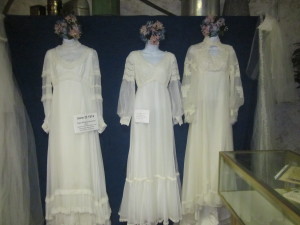 The hours for the museum are Mondays, 6-8 p.m., Wednesdays, 3-5 p.m. and Saturdays, 11 a.m. to 1 p.m.  Call 708-474-7497 to arrange tours at other times.
The Lansing Historical Museum is located in the lower level of the Lansing Public Library, 2750 Indiana Ave., Lansing, Il 60438.