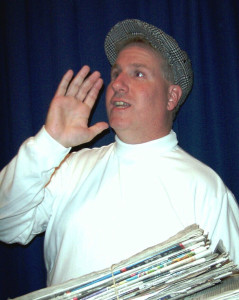 Nationally known actor Terry Lynch specializes in the portrayal of history's most interesting, inspirational figures. His one man interactive presentations give audiences a new, first person perspective on the people and events that make up our history and culture.
In "Illinois Inventors" Terry will portray an old-time newspaper hawker spreading the news about the amazing inventions of many everyday objects we rely on.
The program will take place at our meeting on Monday, April 24, 2017 at 6:00 p.m. in the Community Room of the Lansing Public Library, 2750 Indiana Ave., Lansing, IL 60438.
For more information, call 708-474-7497.