All through December and on through Jan. 6th, the Lansing Historical Museum is offering its "Festival of Lights."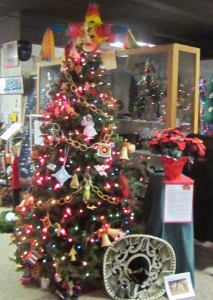 This exhibit features more than 30 trees representing different countries as well organizations in our community. Besides the trees, there are exhibits, costumes, creches and explanations of holiday customs from around the world. One can enjoy the overall ambience of thousands of twinkling lights or stroll leisurely through the trees examining each artifact and ornament and reading about the unique way each country celebrates this most beloved holiday.
Hours are Mondays and Tuesdays, 6-8 p.m., Wednesdays and Thursdays, 3-5 p.m. and Saturdays, 10 a.m. to 1 p.m. Tours at other times can be arranged by calling 708-474-7497. The Lansing Historical Museum is located in the lower level of the Lansing Public Library, 2750 Indiana Ave., Lansing, Il.