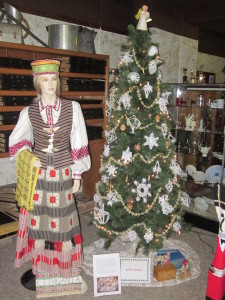 The "Festival of Lights, Christmas Trees Around the World" exhibit will open on Nov. 23, 2015 at 6:00 p.m. with a program featuring "Wolffgang", the girls' choral group from Hobart High School. After the performance, the public will be invited to view the 35 trees and displays from 28 countries. Included in the display this year will be stories and holiday recipes from the various countries and a vignette of "An Old Lansing Christmas."
The display will remain up through January 6, 2016, excluding Christmas & Christmas Eve, & News Years Eve and Day. Hours are Monday and Tuesday, 6:00 to 8:00 p.m., Wednesday and Thursday, 3:00 to 5:00 p.m. and Saturday, 11:00 a.m. to 1:00 p.m., closed on Sundays and Fridays. Tours can be arranged at other times by calling 708-474-7497.
Children are invited to make an ornament at home or school and bring it to the museum to add to the "Children's Tree." Families are invited to visit and learn about holiday customs by playing our "Holiday Treasure Hunt Game."
The museum is located in the lower level of the Lansing Public Library, 2750 Indiana Ave., Lansing, IL 60438.